10 Most Affordable Cities for the Fastest-Growing Careers: Is Your Job on This Lucky List?
Posted on: April 16, 2018, by : Amy Pecoraro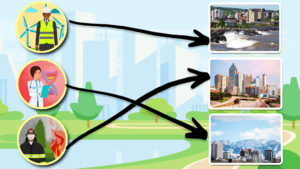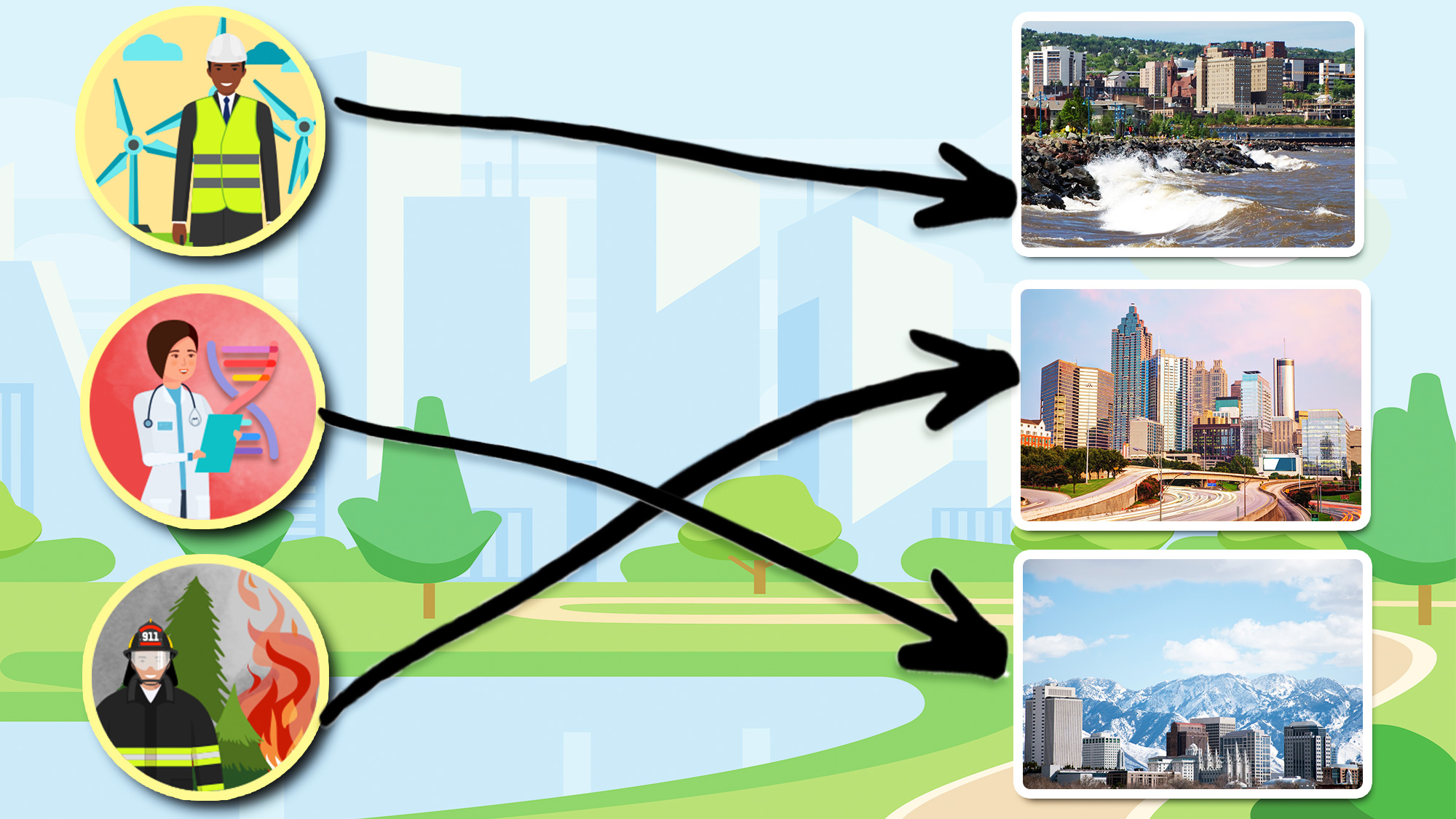 When it comes to winning the real-world Game of Life, there are a pair of treasured action cards everyone is eager to play. One is "Get a great new career"; the other is "Buy the home of your dreams." For most of us, they're a critical one-two combo. Homeownership is one of the reasons we shell out thousands for a good education, spend endless hours studying for certification tests, and smile through excruciating networking events.
But there can be a big disconnect. A red-hot economy is churning out jobs left and right, but the most in-demand gigs aren't necessarily in the places where those professionals can afford to live. Hoping to helm the next zillion-dollar tech startup? Silicon Valley and Seattle reign supreme, but you may still need a hefty trust fund to buy a home. Attracted to the burgeoning solar power biz? You'll have your pick of jobs in Boston or Honolulu, but good luck affording your own digs on a median salary of $39,200.
That's where the realtor.com® data team comes in. We picked the metros with the best prospects for 10 of the nation's fastest-growing professions—many of which are in green energy, health care, and technology—that are also affordable enough to make homeownership an achievable dream for the folks who ply these trades.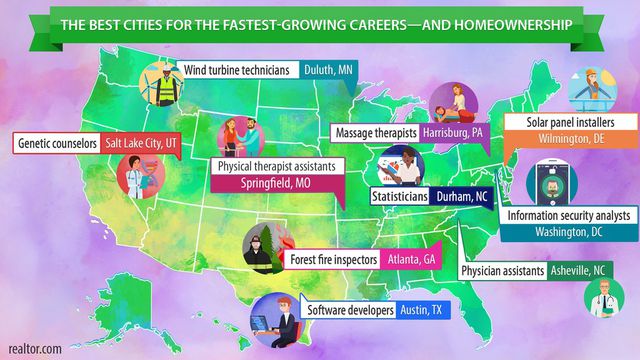 To come up with our rankings, we picked professions expected to see the most growth in new jobs through 2026, according to the U.S. Bureau of Labor Statistics. (We knocked off those that paid below $35,000 or were duplicative.)
We figured out where to find the highest concentrations of these jobs within the 200 largest metros. Then we looked at how much moola people in these careers pulled in nationally to see where they're most likely to be able to afford a home—assuming a 20% down payment and 30-year mortgage. We limited our list to just two metros per state to ensure some geographic diversity.
"Choose a job you love, and you will never have to work a day in your life," Confucius said around 500 B.C.—but he probably wasn't thinking much about razor-thin housing inventories and rocketing costs. We've got your back, though!
You got the skills. Now let's find you a new home to put them to use.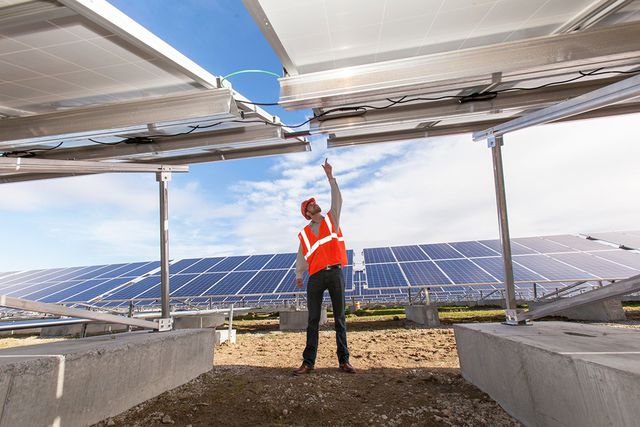 1. Solar panel installers
Top metro: Wilmington, DE
Metro's median home list price: $244,500
Profession's national median salary: $39,200
Profession's projected growth rate*: 105%
Fears of global warming have encouraged more homeowners and businesses to install solar panels. The lure is undeniable: Save the environment—and maybe some cash along the way!
But those solar panels don't install themselves. And thanks in part to Delaware's generous green energy incentives, Wilmington has become a hotbed for people who work in solar.
"When you drive the city, you see all the solar panels on homes—they're everywhere, you can't miss them," says Lauren Donovan, the renewable permitting and design manager at CMI Solar & Electric, a solar company based in the Wilmington metro area. "People are really attracted to all the incentives here."
To be a solar photovoltaic installer in Delaware, folks have to be a licensed electrician—which requires a four-year apprenticeship. And they may not be raking in the biggest bucks, at least initially. Donovan says installers at her firm are paid more than the national median.
That allows them to buy homes ranging from $150,000 to $250,000 across the region, giving them a decent selection of move-in ready, single-family houses. One option is this three-bedroom ranch for $199,900.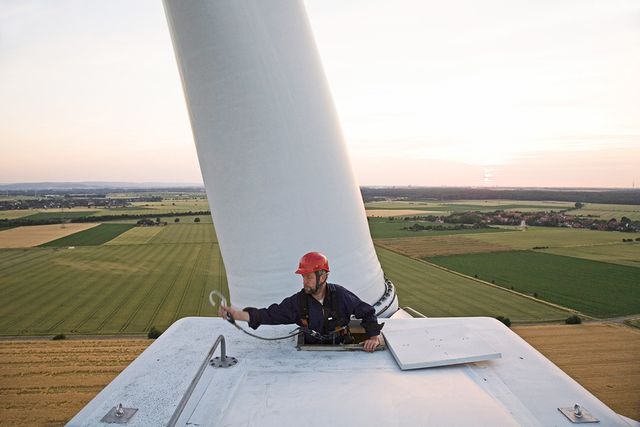 2. Wind turbine technicians
Top metro: Duluth, MN
Metro's median home list price: $175,000
Profession's national median salary: $52,300
Profession's projected growth rate: 96%
This port city on the banks of Lake Superior has become one of the nation's hubs for the components that go into the massive wind turbines that convert the wind's kinetic energy into electricity—and for the techies that assemble them and ship 'em to the rest of the Midwest.
"We connect the heartland and Canada to the rest of the world, and handle around half of the wind turbine imports" into the U.S., says Adele Yorde, public relations director for Duluth Seaway Port Authority.
And after a hard day's work, these technicians can live rather well in the metro area. There are plenty of two-story, single-family houses with big backyards, quaint cabins nestled in the woods, and rural abodes set on large plots with babbling brooks cutting through the property.
"There are big, beautiful homes with large garages and lots of storage for snowmobiles and large boats," Yorde says. Snowmobiles!
The farther out you go, the more land you get, and with little traffic here, commuting isn't a big deal.
"No one thinks twice about buying homes 50 miles away," Yorde says.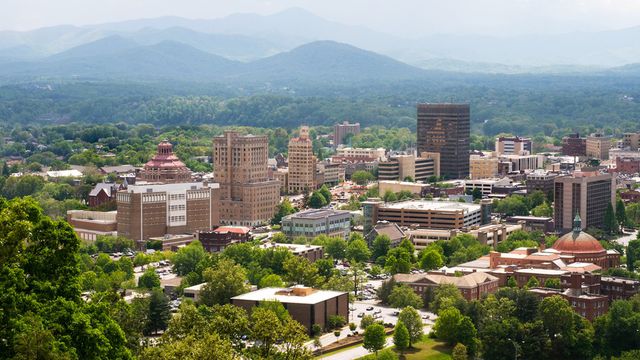 3. Physician assistants
Top metro: Asheville, NC
Metro's median home list price: $353,100
Profession's national median salary: $101,500
Profession's projected growth rate: 37%
To answer the country's doctor shortage, Duke in North Carolina became the first university to offer an accredited physician assistant program in the 1960s. And the state hasn't let go of that lead since, with the mountain city of Asheville taking our top spot for this still-growing vocation.
"North Carolina is the birthplace of the profession," says Emily Adams, executive director of the North Carolina Academy of Physician Assistants, based in Durham, NC. And Asheville, known for its funky art scene, historic architecture, and hippy, liberal vibe, is a top spot for these medical professionals to settle in.
Don't let the "assistant" title fool you—they're nobody's sidekick. In fact, physician assistants are licensed to diagnose and to prescribe meds. In many states, they'll need only to have completed a graduate-level degree, compared with four years of medical school and a residency for doctors.
The city, located in North Carolina's Blue Ridge Mountains, has lots of housing options, from townhomes that overlook the mountains to Craftsman-style bungalows in the burbs. A physician assistant's salary can go far here, says local real estate broker David Noyes of Wilkinson ERA Real Estate.
"There are beautiful homes in North Asheville. Some of them built in the '20s and '30s have been renovated," Noyes says. "You see everything from Victorians to Mid-Century Moderns."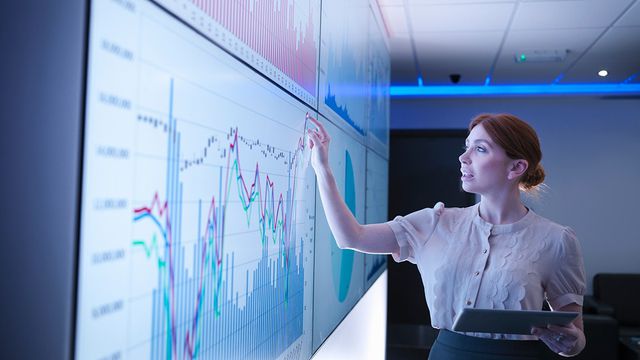 4. Statisticians
Top metro: Durham, NC 
Metro's median home list price: $370,500
Profession's national median salary: $80,500
Profession's projected growth rate: 34%
Admit it—you don't have the slightest clue what a statistician does. To save you a Google search: A statistician analyzes data and uses statistical techniques to solve problems. These pros work in tech, finance, insurance, and health care, crunching numbers to save and make money for their employers.
And a science, technology, engineering, and mathematics (or STEM) hub such as Durham needs all the statisticians it can get. Cisco and IBM both have a large presence in the region. Durham's massive Research Triangle Park houses 170 companies.
Many of these well-paid workers are moving to South Durham, which has a mix of two-story, single-family houses and attached townhomes.
"South Durham is a hot, hot, hot area," says Candy Owens, a broker at Berkshire Hathaway York Simpson Underwood.
It's competitive, too: Owens put a house close to the research park on the market on Wednesday, and by lunchtime on Thursday had several offers over asking.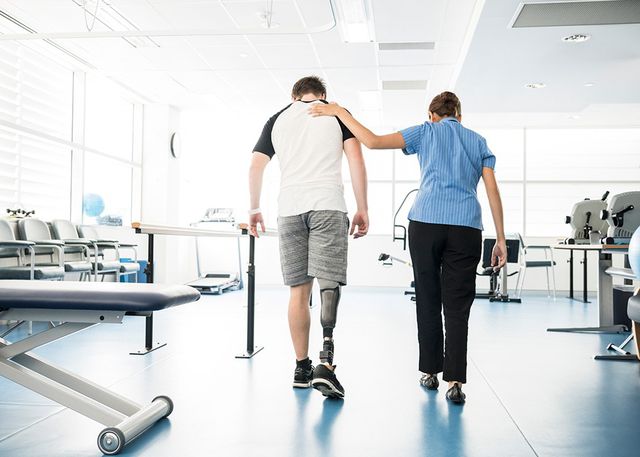 5. Physical therapist assistants
Top metro: Springfield, MO
Metro's median home list price: $187,500
Profession's national median salary: $56,600
Profession's projected growth rate: 31%
If you wrench your back in a car accident or throw out your knee in an ill-advised marathon, you'll likely turn to a physical therapist assistant. Commonly referred to as PTAs, they work under the direction of physical therapists and are a hot ticket as injury-prone baby boomers continue to age.
The Springfield area has seen a big increase in the demand for PTAs, says Nicole Wallen, director of Ozarks Technical Community College's 17-month Physical Therapist Assistants program. The area has two large hospital systems that have expanded in recent years.
Once they start practicing, they're looking at a pretty favorable housing market in Springfield with lots of one-story ranches built anywhere between 1970 to just last year. This four-bedroom home with a two-car garage is available for just $144,900.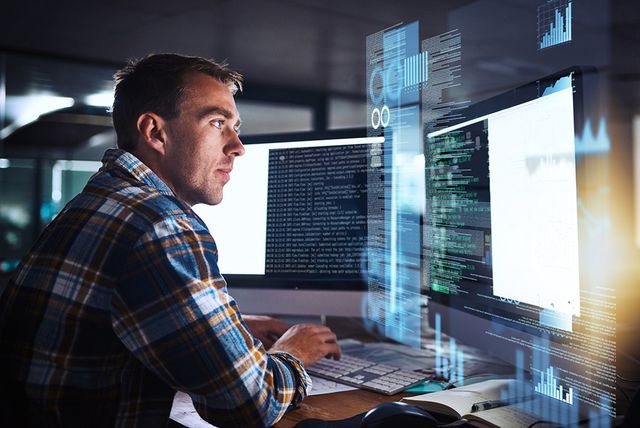 6. Software developers
Top metro: Austin, TX
Metro's median home list price: $368,800
Profession's national median salary: $100,100
Profession's projected growth rate: 31%
It's not news that the funky state capital of Texas has exploded into a tech hub. But unlike San Jose, CA, and Seattle, where the median home prices are $1.2 million and $552,700, respectively, Austin's housing prices are more within reach.
"A lot of tech businesses are up north. So North Austin is becoming a destination spot" for software developers, says Jason Bernknopf, a real estate agent at AustinRealEstate.com.
The median price in the neighborhood, which is filled with newly built condo buildings, is about $300,000.
Tech developers who are doing really well might consider moving to West Austin, where homes usually start out above $500,000, Bernknopf says.
And with a mix of large tech companies such as Samsung and Apple that employ developers, as well as startups like Senseye, a tech company that uses neuroscience and engineering to help computers read our emotions, there are plenty who can afford those high-priced homes.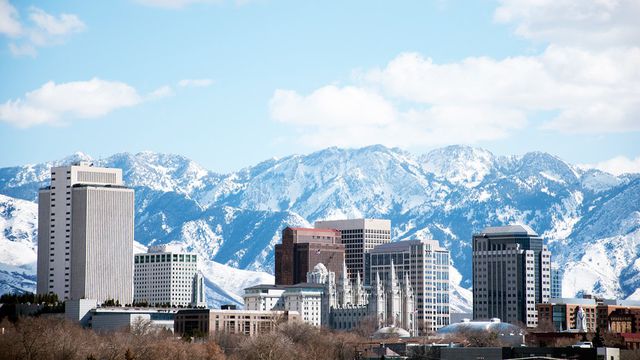 7. Genetic counselors
Top metro: Salt Lake City, UT
Metro's median home list price: $394,000
Profession's national median salary: $74,100
Profession's projected growth rate: 29%
As a genetic counselor at the Huntsman Cancer Institute in Salt Lake City, Whitney Espinel reviews patients' family history, and then deploys genetic tests. If the patient's results show increased odds of cancer or other diseases, Espinel can recommend future screenings, exams, or other preventive measures. An explosion in genetic technology has created demand in metros such as Salt Lake City for these type of jobs.
"We look at your family history looking for red flags," Espinel says, "such as breast cancer at a really young age."
Generally, genetic counselors will have completed a master's degree. (Espinel completed a master of medical science program at Emory University, in Atlanta). Salt Lake City employs these professionals at its hospitals, and also at nearby commercial employers such as Ancestry.com.
Since the profession is relatively young, many of the counselors in Salt Lake City are in their 20s and 30s, says Espinel, and live in condos in downtown Salt Lake City—many of them new units. (The median price for condos and townhomes is more reasonable: just over $271,000, according to realtor.com data.)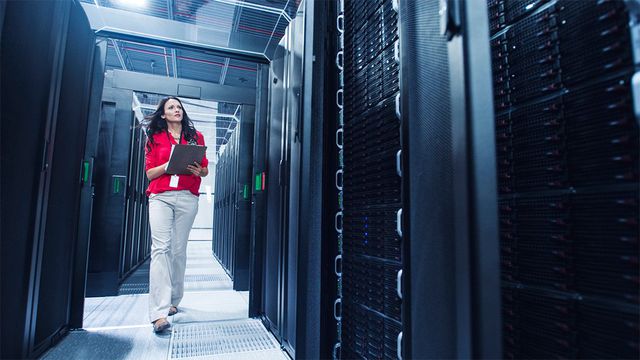 8. Information security analysts
Top metro: Washington, DC
Metro's median home list price: $440,500
Profession's national median salary: $92,600
Profession's projected growth rate: 28%
If there was one takeaway from Facebook CEO Mark Zuckerberg's congressional testimony last week regarding the misuse of the tech giant's data, it is that information security analysts are in desperate need.
These are the folks that protect companies computer networks from malicious cyberattacks. So it makes sense that such jobs have exploded in Washington, DC. Home to the federal government and military, the nation's capital spends billions to protect critical data from hackers.
Many of these cybersecurity and IT professionals are moving to Loudoun County, VA, where they can find reasonably priced townhomes and single-family homes with three bedrooms and still be close to the tech employers in Northern Virginia, says Julie Brodie, a real estate professional with Engel & Völkers Tysons.
Information security analyst had the third-highest salary of the professions we ranked, so it makes sense that they're snagging some pricier homes. Brodie sees many of these types of workers buying townhomes priced between $400,000 to $500,000 in Loudoun County.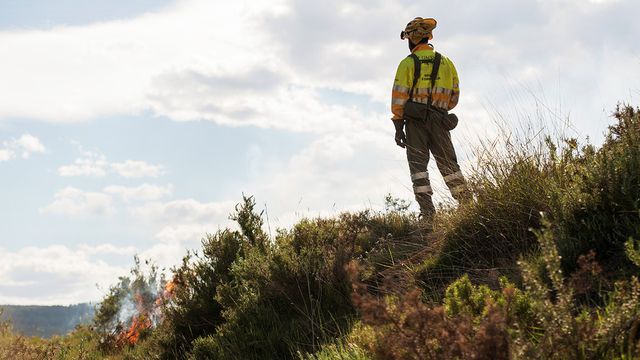 9. Forest fire inspectors
Top metro: Atlanta, GA
Metro's median home list price: $317,623
Profession's national median salary: $36,230
Profession's projected growth rate: 27%
When most folks think of forest fires, they think of terrifying, out-of-control infernos gobbling up acres of land and spreading into wealthy, residential communities in California. But for those who actually combat the conflagrations, stratospheric home prices in the Golden State are mostly out of reach.
This is where Atlanta comes into play: It's located in a state with lots of fires, unfortunately, and reasonably priced homes compared with some of the bigger cities.
Forest fire inspectors primarily enforce regulations, recommend prevention measures, and inspect forests for hazards. Over the past five years, the state has averaged around 4,000 blazes per year that have burned an average of almost 50,000 acres annually, according to the Georgia Forestry Commission. Some of those fires take place in the 28-county Atlanta metro area.
"Two-thirds of Georgia's land is forested," says Wendy Burnett, a spokeswoman for the commission. Having that much wooded land puts Georgia at risk for these destructive blazes.
Burnett says most of the employees working in this profession are likely to have properties with a decent amount of land, given that most of the jobs are located near forests and outside of big cities. That means they can score homes for a little less. There are lots of two-story houses with more than 2,500 square feet of living space they can snag without going broke. Example: this two-story, four-bedroom house priced at $225,000.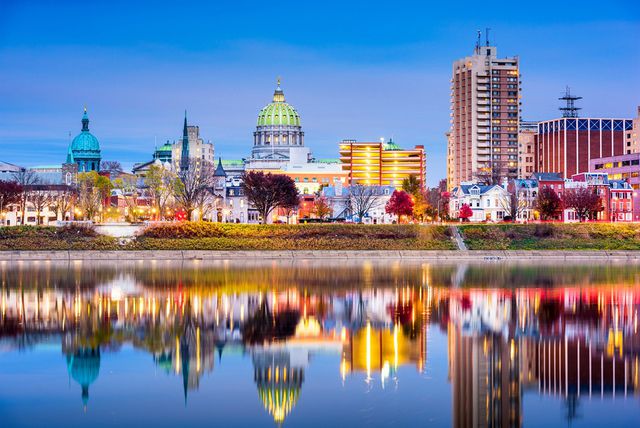 10. Massage therapists
Top metro: Harrisburg, PA
Metro's median home list price: $210,000
Profession's national median salary: $39,860
Profession's projected growth rate: 26%
All right, you're probably wondering why of all places we put Harrisburg No. 1 for massage therapists. Yes, there are places on the coasts that have higher concentrations of these golden-fingered pros. But the lower salaries of these workers make it challenging to buy homes, giving Harrisburg the edge in our ranking.
And it's attracting plenty of therapists who are relocating here due to its growth potential.
Rachel Benbow, 41, grew up in the area and returned three years ago. She is now the owner of the Roots of Health, which offers therapeutic massage and craniosacral therapy, which uses gentle touch to relieve tension.
"It's a city growing more open-minded [toward] bodywork and massage therapy and how that can be helpful to the individual," Benbow says of her decision to open up shop.
The profession is regulated by the State Board of Massage Therapy in Pennsylvania, and it requires licensure to work in the state. That means taking college courses and completing more than 600 hours of training.
Harrisburg has a lot of older two-story homes, but there are plenty of newer single-family homes too. The Mayberry community in West Hanover Township is one growing subdivision in town—and here you'll find this two-story Craftsman slated to be finished in 2019. The four-bedroom, 2.5-bathroom home is priced at $360,900.
"Real estate–wise, the area's really booming," says Benbow, who lives in an apartment complex across the street from her business. "There are housing developments going up all around us"
* U.S. Bureau of Labor Statistics projected growth rate from 2016 to 2026 for that profession
The post 10 Most Affordable Cities for the Fastest-Growing Careers: Is Your Job on This Lucky List? appeared first on Real Estate News & Insights | realtor.com®.
Powered by WPeMatico
Please follow and like us: