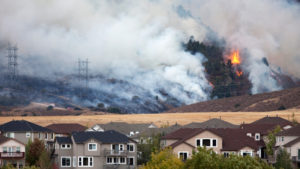 The percentage of homes in foreclosure kept up a monthslong run at their lowest rate in a decade, but more homeowners were late making their mortgage payments at the end of last year—and the recent spate of hurricanes and wildfires is likely to blame.
Early-stage delinquencies, loan payments that are 30 to 59 days late, ticked up slightly, to 2.3%, in December, according to the most recent data available from real estate information company CoreLogic. The rate was 2.2% in November 2017 and December 2016.
(CoreLogic had data for only about 85% of mortgages nationwide. In addition, it looked only at first liens on homes with mortgages.)
"We see this happen every time there's a natural disaster," says South Florida–based real estate consultant Jack McCabe. "From storms and fires, people lose their jobs, they lose their houses, they lose their records. In many cases they don't have a source of income for a period of months to be making their monthly mortgage payments, insurance, and taxes.
"The bank still wants to be paid even if you're not able to live in your dwelling or you've lost your job" as a result of a disaster, McCabe says.
These early signs of trouble in the mortgage market, however, haven't yet been reflected in later-stage delinquencies on a national level, or in foreclosures.
Nationally, about 5.3% of mortgages were 30 or more days past due or were in foreclosure in December, according to CoreLogic. That's the same as it was a year earlier. However, the total share of homes undergoing foreclosure held at just 0.6%, where it has been every month since August. Before that, the last time it had been that low was June 2007.
The serious delinquency rate, payments that are 90 days or more past due, was 2.1% in December. That's actually down from 2.3% a year earlier, but the number could rise as more time goes by for homeowners who lost their homes or their jobs as a result of the natural disasters in August through the end of the year.
Two- and three-month delinquency rates have spiked in California's Sonoma and Napa counties since the October wildfires, Frank Nothaft, chief economist for CoreLogic, said in a statement.
"The aftereffects of Hurricanes Harvey, Irma, and Maria continue to appear as well," Nothaft said. "Serious delinquency rates in the Houston and Miami metropolitan areas doubled between September and year-end."
Florida had the highest percentage of homes that were 30 days or more past due, at 9.2%. Texas had 6.8%, while California had 3%. (Colorado had the fewest homes in early-stage delinquency, at just 2.2%.)
About 11.6% of home loans in the Miami metro area were at least 30 days late. About 9.8% in Houston were similarly past due.
Many affected homeowners in these areas may simply be waiting on insurance payments to help them cover their costs, says McCabe. Or they may be in the process of taking their insurers to court for rejected or smaller-than-anticipated claims.
"Delays in insurance payments … can also delay mortgage payments and make them delinquent," McCabe says. Often, "the insurers don't want to pay the expenses the homeowners are finding the subcontractors are asking for" to repair or rebuild their homes.
The post In the Wake of Natural Disasters, Homeowners Struggle to Pay Their Mortgages appeared first on Real Estate News & Insights | realtor.com®.
Powered by WPeMatico
Please follow and like us: